Tips On Where To Find More Than 800 000 Free Icons
February 12, 2013

Free Icons are great! Image courtesy of FreeDigitalPhotos.net.

Though I prefer to use my own photos on my websites, when it comes social network and feed icons I do prefer to use free icons I find online. Mainly because it is easier to use ready made icons than to design them myself. Also there are so many fun and excellent free icons available out there for download and commercial use. In fact, in the two links I am going to share in this post there are more than 800 000 free icons available for download. Amazing! And they are great icons too!



Read more...
Advertising Options To Google Adsense
January 24, 2013

Image courtesy of FreeDigitalPhotos.net

I have tried to use Google Adsense several times in the past and every time I have been banned without a valid reason, in my opinion anyway. Something which always happened as soon as I have started to make some money by the way. So finally I gave up and tried some other options instead. And in this post I thought I would share my experiences with two of these Google Adsense options.

Read more...
Some Great Blog Hops To Join


January 18, 2013





In this post I will share links to some great Blog Hops to join. But first of all, in case anyone is unsure of what a Blog Hop is, I thought I would give a short explanation of that before I get to the links. A Blog Hop is a list where bloggers can add their blog's URL. The main purpose of a Blog Hop is for all bloggers on that list to visit each others blogs, follow, comment, share blog posts in social networks and so on. In other words, a Blog Hop is a way to find blogs as well as a way to gain visitors, followers and comments to your own blog. And in my experience, the more active I have been in a Blog Hop - the more activity I have seen on my blog. So my advice is to be an active participant in a Blog...

Read more...
Review Of The Social Promotion Website Add Me Fast


January 8, 2013





I have been a member of Add Me Fast for several months now and I must say that I am very pleased with the results I have gotten through this Free Social Promotion Website.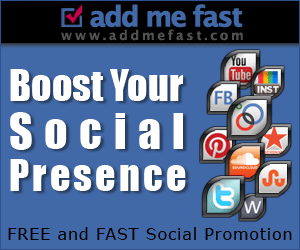 What I like most about Add Me Fast is that there are many options to earn points there and I do not have to spend the points I earn on the same thing I earned them on. For instance, if I want Twitter Followers I can earn points by watching YouTube videos and then spend the points I earned on gaining Twitter Followers. Also the time from when I have earned points until I see results is very...

Read more...